NUMERY ARCHIWALNE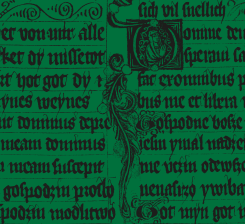 STRONA REDAKCYJNA, s. 4 / CREDITS, 4
STUDIA I MATERIAŁY / STUDIES AND MATERIALS
Biblioteka Zygmunta Augusta i jej monumenta w berlińskiej Staatsbibliothek, s. 11–44 / The royal library of King Sigismund Augustus and its artefacts in Berlin's Staatsbibliothek, 11–44

In 1988, a monograph on Sigismund Augustus's library by Alodia Kawecka-Gryczowa was published, providing a complete list of royal books remaining in various libraries. Since then, however, many items not mentioned by the author have been discovered; a few of such previously unknown volumes from Sigismund Augustus's library were found in Berlin's Staatsbibliothek. A query into Staatsbibliothek showed that it held volumes mentioned in earlier literature (e.g. by Walde) not found by Kawecka-Gryczowa; furthermore, volumes completely unknown thus far were discovered. The query was based on a record found in Staatsbibliothek's manuscript accession books concerning the transfer of books (including a certain number of books from the royal collection) from Śrem to Berlin in the years 1825-1826. On the basis of the descriptions there included as well as of contemporary catalogues, 34 titles (in 29 volumes) once belonging to King Sigismund Augustus's library were found; additionally, the discovery made it possible to ascertain that 7 titles from Berlin quoted in Walde's list and in Kawecka-Gryczowa's monograph had been lost during the war. Among the 29 volumes identified, 3 were not mentioned in Alodia Kawecka-Gryczowa's catalogue at all. Additionally, two volumes quoted by Kawecka-Gryczowa on the sole basis of Koszutski's manuscript catalogue, without finding the actual items, were retrieved. Also, 7 volumes known to Alodia Kawecka-Gryczowa only from Walde's work were recovered, due to which their descriptions could be amended. Finally, a volume with no royal binding, but with a handwritten dedication to the King, listed by Kawecka-Gryczowa without the item's description, was retrieved.

Muzykalia z dawnej Biblioteki Załuskich zachowane w zbiorach Biblioteki Narodowej s. 45–67 / Music manuscripts from the former Załuski Library in the National Library holdings, 45–67

The National Library of Poland holds nine 18th-century music manuscripts from the former Załuski Library. Music documents were of minor importance for the library founded by brothers Jozef Andrzej and Andrzej Stanisław Załuski, and were probably incorporated into its collections as part of larger magnate's libraries it acquired, however, their origin remains difficult to indicate or to prove. Five of the extant French manuscripts contain a repertoire of secular – vocal and instrumental – music. The music documents testify to abundant transmission of the French airs repertoire, made popular by numerous anthologies coming out in Paris. Four German manuscripts are a random selection of miscellaneous sources and convey a repertoire which has not been identified in its entirety before.

"Robiłem czasem aqua forti…". O rzekomych unikatowych grafikach Norwida, s. 69–82 / "I sometimes made aqua forti...". On supposed unique engravings by Norwid, 69–82

The article discusses the wrong attribution of three engravings to Cyprian Kamil Norwid. The author has determined the actual authorship and origin of The Original Sin, an etching previously believed to be a unique copy of an early engraving by Norwid. The engraving Il peccato originale was made by the Italian artist Nicola Consoni and published in 1841 in an album entitled Raccolta delle opere di Raffaello. The author also discusses doubts as to the attribution of the etching St Mary Magdalene glued into the so-called Berlin Album as well as of Eagle on a Rock, a lithograph. Additionally, the paper reflects on how Norwid used themes from works by old masters as well as from contemporary graphic patterns.

Przegląd badań nad drukami liturgicznymi diecezji węgierskich z XV–XVI wieku, s. 83–107 / An overview of the research on Hungarian 15th and 16th century liturgical prints, 83–107

The article discusses the research on printed liturgical books of Hungarian dioceses published before 1526. Several local rites existed back then in Hungary, which is why diocesan authorities arranged for printing of their own missals, breviaries etc. The orders were usually performed by specialised printing houses, especially in Venice. The article predominately discusses works in bibliology. It also takes into account works representing other fields of knowledge which provided useful information for bibliology research. In the 19th and 20th centuries, authors from Hungary and other countries published diverse works discussing Hungarian liturgical books: catalogues, bibliographies, monographs and source editions. Inquiries in numerous libraries led to the discovery of new editions as well as of many items with interesting individual features. Liturgical book editions also played an important role in the research, which demonstrated their unique character.




Recepcja antycznej ikonografii monetarnej w XVI-wiecznych drukach emblematycznych (projekt badawczy Biblioteki Narodowej), s. 109–134 / Reception of ancient monetary iconography in 16th century emblematic books (research project of the National Library of Poland), 109–134

The article introduces a research project implemented at the Department of Early Printed Books of the National Library entitled Reception of ancient monetary iconography in 16th century emblematic books and symbolic treatises. The research was funded by a National Science Centre grant. The paper lays down the details of the project's methods and objectives. It also indicates the major conclusions of this analysis. It is worth noting that some of them are of a broader nature and apply not only to 16th century emblematic books, but to Renaissance culture in general. The paper also describes important auxiliary materials such as early numismatic compendia whose detailed study was indispensable to complete the research. However, the article provides nothing but a summary description of the project, focusing on its major elements only. The full conclusions along with detailed analyses can be found in a monograph known under the working title Coins of Alciato. Remarks on the Reception of Classical Numismatic Iconography in the 16th Century.

Druki wydane dzięki tzw. wieczystej fundacji Bartłomieja Nowodworskiego – zarys zagadnienia, s. 135–154 / Early printed books sponsored by the so-called perpetual foundation of Bartłomiej Nowodworski – an outline of the issue, 135–154

In 1619 Bartłomiej Nowodworski (ca 1552-1625), the knight of the Order of Malta and the courtier of King Sigismund III, announced the establishment of his next foundation. Its aim was to prepare enrollees studying at the Academy of Cracow and also, finance publication of the academic books provided with a sponsorship note. The first volume financed by this fund was the mathematical work of 1620 by Jan Brożek, but soon after panegyrics became the major genre of works sponsored by the foundation. The question of this fund was earlier raised e.g. by the historian of the Scholae Novodvorscianae, Henryk Barycz.

Muzyka użytkowo-popularna w warszawskich lokalach i miejscach w latach popowstaniowych, s. 155–196 / Incidental and popular music in Warsaw public venues in the years following the November Uprising, 155–196

Incidental and popular music performed in Warsaw cafés, restaurants, gardens, social clubs, theatres, circus halls, aristocratic salons and those of the Tsar's dignitaries was the most symptomatic feature of the city's music culture at that time. Its highlights were salon dances by foreign composers (mainly Viennese waltzes), original works (predominately mazurkas), dances composed by local artists inspired by opera music, opera overtures and extracts from operas as well as various "chants" performed by both small family bands and large orchestras, both local and from abroad. This music accompanied events such as public balls, dances, theatre entr'actes and parties (mainly balls and dinners) in the salons of the Warsaw aristocracy and Russian dignitaries. The paper draws on various sources (mainly journals of the time), finding many previously unknown details and contexts.

Tygodnik ilustrowany "Oświata" jako narzędzie formowania "cesarskiego chłopa" w Królestwie Polskim w latach 1900–1905, s. 197–219 / The "Oświata" illustrated weekly as a tool to form the "Tsar's peasant" in Congress Poland in the years 1900–1905, 197–219

The "Oświata" [Education] illustrated weekly was published in Congress Poland in the press market for peasant readers in the years 1900-1905. The magazine was initiated by Aleksander Imeretyński, Governor-General of Warsaw (1987-1900), concerned by the Polish intelligentsia becoming increasingly active in openly trying to inculcate Polish national identity in the modern sense among the peasants in the late 19th and early 20th centuries. The Governor-General's Chancery proposed that a Polish language magazine comes out in order to (1) instil imperial identity at the bottom of the social ladder of Congress Poland; (2) respond to basic modernisation challenges and outline a specific vision of modernity; and (3) express a position towards the link between Polishness and Catholicism. This was to be achieved with appropriate sets of reading matter in each issue of the magazine as well as recommendations and warnings against books peasant readers could access. Readership was to play an essential educational role in forming modern, "enlightened" peasants (both men and women) on the one hand, and to provide a guarantee of their "rightmindedness" and distrust towards the Polish aristocracy and intelligentsia on the other. The peasant reader was offered to identify with the Russian Empire and to adopt a Slavic identity substituting for the national idea. At the same time, the notion of a " nation" itself was understood in a very traditional manner, as synonymous to "the Christian people" guided by the "fatherly" hand of the autocratic Tsar. Tsarist autocracy, despite its traditional legitimisation, was regarded as a progressive regime, which was proven by the "memorable event" of which the readers were repeatedly reminded: the 1864 enfranchisement reform. The last section of the article is dedicated to the position of the Catholic Church in Congress Poland. The editors of "Oświata" saw the mission of Catholicism as perfectly compatible with state-imposed modernization as long as the clergy fully give up on their – destructive in this perspective – "Polonism", which translated into support for the Polish aspirations for national independence.

Spuścizna Kazimierza Konarskiego w zbiorach Biblioteki Narodowej, s. 221–267 / The collection of Kazimierz Konarski in the National Library Holdings, 221–267

The article recalls the figure of Kazimierz Konarski (1886–1972), director of the Central Archives of Historical Records in the Second Polish Republic. His memories, covering the period from his childhood until the end of World War II, provide a guide to his life and times. The purpose of the paper was to determine whether the extant manuscript sources available at the National Library could supplement information provided by Konarski himself. Based on both manuscript and printed materials, an attempt was made to trace back the course of his life and literary achievements. It turned out, however, that the supplements discovered in the manuscript mementoes relate nearly exclusively to issues muted due to censorship interventions. Since Konarski scrupulously documented them, the extant manuscripts together with their published versions represent an interesting material for studies on the history of censorship in communist Poland.

Anatol Stern i Stefan Themerson. O Europie, a także przyjaźni dwóch awangardzistów na podstawie ich korespondencji wzajemnej z lat 1959–1968, s. 269–288 / Anatol Stern and Stefan Themerson. On "Europa" and the friendship between the two avant-garde artists on the basis of their mutual correspondence from the years 1959-1968, 269–288

Anatol Stern (1899–1968) was a poet, one of the founders of the Polish futurism, a prose and drama writer, literary critic, essayist and the author of memorial sketches as well as a prolific scriptwriter and film journalist of the Polish inter-war period. Stefan Themerson (1910–1988) was a novelist, poet, essayist, philosopher, author of children's literature and composer; together with his wife Franciszka (1907–1988), he made experimental short films in the inter-war Poland and later in the UK during the war, laying foundations for the Polish film avant-garde. The article studies the relationship between these two artists, who met each other and begun to work together already in the early 1930s, which has not been analysed in detail before. Manuscript sources documenting their friendship before the war have not survived to this day (Europa, an experimental film by Themerson based on Stern's narrative poetry, has also been lost), therefore, what provides fundamental reference for the article – without being its only source of information — is the correspondence between Stern and Themerson from the years 1959–1968, recently compiled by the National Library of Poland.

Archiwum Jerzego i Bożeny Łojków, s. 289–296 / The archives of Jerzy and Bożena Łojek, 289–296

The archives of Jerzy and Bożena Łojek were handed over to the National Library of Poland by their estate in 2013. Jerzy Łojek (1932–1986) was a historian specialised in the 18th century, the Four-Year Sejm and the history of Polish press. He also wrote several popular science books: Wiek markiza de Sade [The Age of Marquis de Sade], Dzieje pięknej Bitynki [The Story of a Beautiful Bithyni] and works on 20th century history such as: Dzieje sprawy Katynia [History of the Katyń Case] and Agresja 17 września 1939. Studium aspektow politycznych [The 17 September 1939 Aggression. Study of Political Aspects]. His wife Bożena Łojek (1937–2010) was a choreographer, historian of the theatre and ballet (18th-19th centuries) as well as co-founder of the Federation of Katyń Families. The archives provides materials from the years 1946–2010, including biographic and workshop documents, revised versions of typescripts and correspondence. It is a valuable collection not only because of its authors' personalities, but also the picture of the communist People's Republic of Poland emerging from their correspondence and various biographic materials.

Zakup księgozbioru Kazimierza Chłędowskiego przez Ministerstwo Wyznań Religijnych i Oświecenia Publicznego w 1920 roku, s. 297–307 / Purchase of Kazimierz Chłędowski's book collection by the Ministry of Religious Denominations and Public Education in 1920, 297–307

The article discusses the efforts undertaken by the Ministry of Religious Denominations and Public Education in order to purchase the book collection of Kazimierz Chłędowski (1843–1920), author of memoirs, satirist as well as researcher and historian of culture who died in Vienna: the Ministry's correspondence with his heir and her plenipotentiary in Krakow, issues related to the assessment and valuation of the Vienna book collection, the competition with the Ministry of Culture and Arts for the right of its purchase, attempts to "take over" the book collection made by various Polish libraries, payment issues and incidents that occurred during its transport to Poland, and finally problems with the financial settlement, unresolved until 1923.

Julian Pełesz (1843–1896) – greckokatolicki biskup stanisławowski i przemyski oraz jego prywatny księgozbiór, s. 309–328 / Julian Pełesz (1843–1896), the Greek Catholic bishop of Stanislaviv and Przemyśl and his private Library, 309–328

The article presents the personage and collection of Greek-catholic bishop of Stanislaviv (Stanisławow, Ivano-Frankivsk) and Przemyśl – Julian Pełesz (1843–1896). He was an active priest and social activist, and also historical researcher, interested in history of the Greek-Catholic Church. As historian and theologian, Pełesz collected a precious private library, with unique Cyrillic liturgical manuscripts.

Polscy bibliotekarze w poszukiwaniu swojego zawodu, s. 329–340 / Polish librarians in search of their profession, 329–340

Library practice in Poland is vast and often effective, however, librarians lack many characteristics of an established professional group. This results mainly from the fact that they share no common body of knowledge. The knowledge acquired at university has long been lacking coherence in conceptual and axiological terms as well as a structure typical of other research disciplines or domains of practical knowledge. Furthermore, the Ministry of Science and Higher Education has recently allowed inconsistencies between the names of educational curricula and their contents, or even their anarchisation. In this context, it would be useful to have a general model of professional training for scientific information employees based on a procedure other than obtaining professional qualifications at higher education institutions. The author suggests that the concept of a "chartered librarian" should be restored, however, he cannot agree with the way this was presumably delivered by the Conference of the Directors of Polish Schools' Academic Libraries. Revision is required for both the assessment criteria (where special attention should be paid to the coherence of professional achievements) and the qualification procedure (the rule that higher education institutions certify candidates for chartered librarians independently should be abolished). Professional training of staff able to live up to the challenges faced by today's scientific information employees could be enhanced with the opportunities provided by the Bologna Process, especially through promoting library science studies as supplementing subject-matter ones (in a particular domain).

Bibliotekarze XXI wieku: usługodawcy, radykalni katalogerzy i animatorzy kultury, s. 341–398 / Librarians of the 21st century: service providers, radical cataloguers and cultural animators, 341–398

The article seeks to set the librarian's profession in a new perspective and to look at its historical evolution. It makes a case that in the recent decades a return to the sources has been taking place, with librarians, just like their 19th century ancestors, becoming an increasingly diverse group performing a wide range of tasks. Analysing examples from abroad, the authors question whether it is reasonable to distinguish a separate librarian's profession and suggest that librarians are nothing but people employed in libraries. Library practice, in turn, is an information service of some kind provided to various groups of recipients. This represents also a shift in the cataloguers' everyday work, forcing them to embrace the principles of "radical cataloguing". The article also discusses the results of works conducted by a working group appointed on the basis of an agreement between the National Library of Poland and the Educational Research Institute. The purpose of this group was to set forth the knowledge, skills and social competencies necessary to perform librarian's work in all types of libraries. Its activity was related to pilot projects implementing the Polish Qualification Framework as well as works on a draft law on an integrated qualification system.

Deskryptory i przyszłość opracowania rzeczowego w bibliotekach, s. 399–412 / Descriptors and the future of material description in libraries, 399–412

Descriptors as metadata for library materials are seemingly used in three roles: (1) as a component of the new philosophy and principles of cataloguing, (2) as an element of the so-called faceted search — a specific navigation technique accommodating various traditional and non-traditional information and search languages — and finally (3) as a response to the essential, but more particular issue: the inadequacy of keyword languages for users searching for pieces of writing according to material criteria. The author raises concerns that as long as we implement descriptors without having full knowledge of the keyword allocation practice and its limitations, we are bound to repeat various mistakes and again fall into the trap of systems that are barely comprehensible to the end user. He believes material description of works classified as specific items in library holdings shall be based on a generalising and (physically) localising classification symbol as well as on detailed specifications reflecting the contents, genre, form and purpose of each item. It is likely that descriptors, which are not fully developed keywords, combined with the faceted classification system, may lead to the suspension of any such description. In this context, the major challenge libraries face is to provide material characteristics resulting from a precise, fully objective and disciplined approach to the work's content, which is also where misunderstandings are most frequent and not prevented by any formalised terminology management system.



Wypożyczenia biblioteczne w obiegu książek nastoletnich czytelników, s. 413–433 / Library loans in book circulation among teenage readers, 413–433

The article analyses selected results of a national readership survey conducted among middle school students regarding the social circulation of books and social aspects of the students' reading practice. Various social and demographic elements making up the book circulation system have been discussed: conversations and exchange of views on the books, the sources of information on leisure reading and ways of getting access to books. Special attention has been paid to libraries – both public and at schools – as a source of the books read by choice as well as in connection with school duties. It is shown which teenage readers borrow which kinds of books from both types of libraries. An important conclusion from the analysed survey for the promotion of readership is that boys living in rural areas are the least active group of readers, school libraries being the essential source of those books they do read.
RECENZJE / REVIEWS
Katalog prac plastycznych Cypriana Norwida w opracowaniu Edyty Chlebowskiej, p. 437–443 / Catalogue of graphic works of Cyprian Norwid edited by Edyta Chlebowska, 437–443

Z badań czytelnictwa. Kierunki i formy transformacji czytelnictwa w Polsce 2013–2014, p. 445–450 / On readership studies. The directions and forms of readership evolution in Poland 2013–2014, 445–450

Czytelnictwo w dobie informacji cyfrowej pod redakcją Mai Wojciechowskiej, p. 451–453 / Readership in the age of digital information edited by Maja Wojciechowska, 451–453
O AUTORACH, s. 455 / CONTRIBUTORS, 455